Top
Apply Now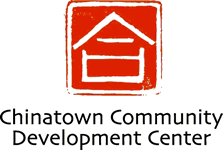 Resident Manager - 9th Avenue Terrace
San Francisco, CA
Job Summary: The Resident Manager is responsible for ensuring safe and secure living conditions for all residents. The position requires a reliable and sensitive individual who is dedicated to serving the needs of low-income tenants. They must display a calm demeanor and presence during emergency situations, exercise sensible and impartial judgment, and be willing to perform a variety of tasks.
Status: Part-time, On-call, Nonexempt
Location: Richmond neighborhood, San Francisco
Hours: Perform nightly duties (approximately half an hour per day); On-call Monday through Friday 5 p.m.-8 a.m. and on Saturday, Sunday, and CCDC Holidays from 12:00 a.m. to 11:59 p.m. (24-hours)
Salary: $18.46 per hour
Resident Manager unit: Studio bedroom
: A private non-profit founded in 1977, Chinatown Community Development Center believes in a comprehensive vision of community. We own and/or manage approximately 36 affordable housing buildings serving over 4,500 low-income seniors, single adults, formerly homeless adults, and families of diverse ethnic and cultural backgrounds in San Francisco's Chinatown, Tenderloin, Western Addition, and Polk Gulch neighborhoods. We also build housing, develop grassroots leadership, and engage low-income residents and youth. Our employees are passionate about the mission; thrive in a family organizational culture; and embody values of empowerment, teamwork, and compassion. Chinatown CDC serves a diverse population and is committed to hiring practices that provide culturally competent services. We encourage people of color to apply.
What You Will Do
Perform nightly security check on building floors and lock up common areas as needed/or in the case of an emergency
Report all maintenance related issues to Property Manager
Log and document serious events on incident reports and submit to Property Manager
Respond to tenant complaints in a reasonable time manner
Report any graffiti on both interior and exterior side of the building to Property Manager
Log activities daily and occurrence including date, time, and what happened that day or no incidents
Respond to all telephone calls, otherwise, return calls as soon as possible
Respond to calls or emergencies at the building as soon as possible and notify the Property Manager as appropriate
Along with Property Manager, attend resident meetings a minimum of once per year
Required to reside in resident manager unit and stay every night while on duty
Clean building entrance, hallway, and community areas when needed
Collect, process, and drop off quarters from on-site washing and drying machine to Property Manager every three months

Rough schedule of collection & drop off: January, April, July, October'

Approximate time to perform nightly duties per day: 30 minutes
Other:
Embody organization values (respect & compassion, empowerment, teamwork)
Contribute to a safe and pleasant work environment
Follow policies, procedures, and safe work practices
Other duties as assigned
What You Bring
Commitment to respond to all cell phone/pager calls within ten minutes
Commitment to be at property site within thirty minutes of being notified of any building emergency
Willingness to do varied tasks
Ability to work with people of diverse social, economic, and ethnic backgrounds
Good written and verbal communications
Act in a pleasant, professional, and calm matter
Ability to work under stressful circumstances
Education and Experience (Minimum Qualifications)
Bilingual and biliterate in Chinese/English
Excellent interpersonal skills and ability to work with diverse ethnic group
Sensitivity to issues facing low-income families, disabled, and elderly populations
Good judgment and problem-solving skills
Preferred Qualifications
Experience working in affordable housing projects, especially in property management
Prior experience as a Resident Manager
© 1999 - 2023 Apartment Gear, Inc. | formerly PMJobs.com
Top