Top
Easy Apply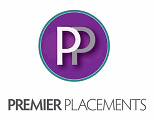 Staffing Coordinator
Atlanta, GA
Recruiting and Staffing Coordinator
Are you a high-energy problem solver? Do you thrive in a fast pace where you can work independently while collaborating with a team to meet company objectives? Have you been looking for a target driven company with a reputation for providing the most qualified temporary employees in the business? If you are ready to offer best-in-class customer service, our Recruiter / Staffing Coordinator position will be a great place to take the next step in your career.

Premier Placements, LLC is a leading property management staffing and recruiting firm with a dynamic team. We believe that the key to our success lies in our core values such as integrity, honesty, and high performance. We believe in doing the right thing for both our clients and our employees. We value honesty, reliability, and strive to treat everyone we meet with respect and dignity.

What we offer:
· Team-based work environment
· Work from home after the probationary period
· Competitive base pay + commission potential
· Paid Time Off
· Medical and dental insurance coverage
· Cutting edge technology
· Continuing education opportunities


Recruiting and Staffing requires meticulous communication, strategic thinking, focus, and diligent follow-up. The position is extremely fast-paced and requires the ability to change direction often based on priorities.

Qualities that we are looking for include:
· High volume Recruiting / Staffing experience
· Competitive nature
· Creative problem-solving skills
· Ability to thrive under pressure
· Sound judgment
· Proactive and resourceful
· Highly organized and detailed
· Industrious and persuasive
· Honest and ethical
· Enjoy learning and willing to employ new ideas and techniques to maximize results


A Recruiter / Staffing Coordinators responsibilities include:
· Foster and maintain relationships with clients and job seekers
· Confidentially work with hiring managers and candidates to match needs vs. skills
· Source, interview, and hire a large number of high caliber candidates
· Schedule employees to assignments based on skills requested
· Coaching and performance management of temporary staff
· Consistent communication with clients, employees, and co-workers
· Extensive industry knowledge, become an expert in your field
· Flexibility to attend networking events after business hours monthly
· Visit clients and employees at the job sites
· High volume phone presence
· Client marketing to maintain and grow the business portfolio
· Meet goals and expectations to fuel company and personal growth
· Regularly update social media platforms with relevant and timely information
· Other essential duties that relate to the position and company

If you are ready to join an established company who stands behind their culture and values, then apply today!


We are an equal opportunity employer. All applicants will be considered for employment without attention to race, color, religion, sex, sexual orientation, gender identity, national origin, veteran or disability status.
© 1999 - 2021 apartmentjobs.com | PMJobs.com
Top