Top
Apply Now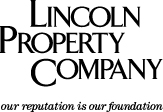 Maintenance Technician - Part Time
West Covina, CA 91791
Lincoln Property Company is searching for an experienced service technician to cover at 67 unit community in Glendale, CA. This community is currently undergoing a major renovation both on the interior and exterior making this soon to be 'the' place to live in Glendale. Renovations include a state of the art fitness center, complete pool and landscape renovation, exterior paint, and much, much more. Interior renovations include granite countertops, new flooring, all new stainess finish appliances, contemporary paint schemes, etc.
The On-Site Service Technician is often the single most responsible party for resident retention. Not only does the Service Technician play a key role in the resident's comfort and safety, their often includes more interaction with the residents than any other on-site personnel. It is therefore essential that the Service Technician portray a professional, courteous, and 'We Care' attitude while on the job.
The following qualifications must be met to be considered for the position of Service Technician:
Must be able to lift 80-100 lbs on a regular basis.
Must be able to walk up and down stairs on a regular basis.
Must have a valid drivers license and reliable transportation.
Must be able to live at the community at which you are employed, and/or be available to assist in after-hours emergency situations.
Must be available for night/weekend call duty.
Must have the knowledge and ability to perform the following
duties:
a) plumbing repairs
b) repair/replace locks, smoke alarms
c) replace screens
d) appliance repair
e) electrical repairs
f) roofing inspection/minor roof repair
g) change AC filters
h) HVAC repairs (must have HVAC license)
i) extermination (Texas--must be certified)
j) replace broken windows
k) carpet and pad repair/replacement
l) comply with OSHA regulations
In addition to the skills listed above, the Service Technician is responsible for completion of the following duties:
Complete resident requested service orders on a timely basis. (LPC standard turnaround time for completion of service requests is 24 hours, unless circumstances dictate otherwise.)
Complete all assigned maintenance work on vacant apartments within the LPC standard of 7 days or 5 business days.
Comply with all OSHA regulations and any applicable laws in your area regarding health, safety, or environment.
Order maintenance supplies with approval from Business Manager.
Ensure building lights and timers are working properly.
Install new appliances as necessary.
Assist Business Manager/office personnel as needed in emergency situations.
Consult with Business Manager and/or Maintenance Director on major repairs, replacements and/or contracts.
Attend meetings and seminars as requested by Business Manager, Regional Property Manager or Maintenance Director.

Qualifications
Two years of multifamily apartment maintenance experience required.
Education
High school diploma or equivalent. HVAC and pool certification preferred.
Benefits provided
401K Match
401K Plan
Bonus Program
Dental Insurance
Health Insurance
Internal Training
Life Insurance
Long Term Disability
Optical Insurance
Paid Vacations
Short Term Disability
© 1999 - 2019 apartmentjobs.com | PMJobs.com
Top