Top
Apply Now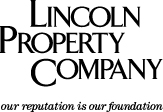 Concierge / Resident Relations
Playa Vista, CA 90094
Founded in 1965, Lincoln Property Company is currently ranked as the fourth largest property manager in the United States, with over 130,000 apartment units currently under management. We are seeking the best candidates who share our values and commitment to excellence to join our team and be a part of Lincoln's growth in Southern California. As a member of the LPC team, you are an integral part of our company's foundation, offering you strong roots and a bright future. With the support and resources of a long-established company, you can grow and develop both personally and professionally with our nationally recognized training programs and opportunities for success. We offer positions of great responsibility that are matched with competitive compensation, benefit packages, housing discounts, flexible hours and much more.
Lincoln Property Company: A company for people, a company about people.
Concierge: 420 unit property in Playa Vista, CA.
Job Description:
Lincoln Property Company is looking for an outgoing, friendly, goal oriented individual with a drive to succeed. The Concierge is responsible for providing professional service at all times and act as liaison between residents and property staff. Successful candidates will create a comfortable atmosphere and stress-free environment to residents and their guests by delivering remarkable customer service.
Responsibilities:
Managing the front desk and office area
Providing miscellaneous services and information to residents, at their request, as well as assisting prospective residents, vendors, contractors and visitors as needed.
Conduct yourself in a manner representative of the quality of our product. You will be a primary contact between the residents, prospective resident and the company.
Promote positive and proactive resident relations by working to make the living experience the highest quality.
Respond to complaints, follow-up on work orders, and general customer service needs of the property.
Responsible for collecting rent and other payments/deposits.
Exceptional communication, customer service and people skills

Previous managerial or supervisory experience (strongly preferred)
Outgoing, friendly personality
Good organizational skills, follow-up and follow through
Ability to handle multiple tasks at one time
Self-motivated; can work independently
Detail-oriented
Basic typing and computer skills including ability to find information on the Internet
Have the flexibility to work all shifts as needed, including weekends
Hotel, hospitality or other service experience a plus
Qualifications
Direct sales and marketing experience
Two years related or one year industry experience preferred
Strong communication skills
Knowledge of business correspondence
Basic computer skills, including working knowledge of Outlook, Word, and Excel. Yardi preferred
Education
High School Graduate w/College Preferred.
Benefits provided
401K Match
401K Plan
Bonus Program
Dental Insurance
Health Insurance
Internal Training
Life Insurance
Long Term Disability
Optical Insurance
Paid Vacations
Short Term Disability
Jobs like this are also known as:
Activities Director / Resident Services
Community Ambassador
Concierge
Customer Service Representative
Resident Services Coordinator
© 1999 - 2020 apartmentjobs.com | PMJobs.com
Top